This is the second blogpost of Ilo Nanpa. You can read the first blogpost here: Ilo Nanpa (Toki Pona Calculator) - Release Announcement and Technical Details
Future Distribution of Ilo Nanpa
Hey guys! I'll be distributing new units of ilo nanpa! Previously, ilo nanpa was distributed in irregular batches. From now on, I'll be shipping a batch at approximately the end of each month (unless I run out of stock).
With time-efficient production method, the time-cost of unit production is reduced by quite a lot. Therefore, I'm lowering the average donation target per unit from $30 to $20 for all of the new units produced, including international shipping fee.
For each donation made, I'd add the amount to the donation pool. For each unit shipped, I'd deduct $20 from the pool. The fund available in the donation pool will be used for giveaways, or for subsidizing those who're donating less.
For a donation of $25 per unit or above, you'll be enlisted as one of the honored donors in the official website of ilo nanpa.
Future Distribution: Procedure of Getting Ilo Nanpa
If you're interested, here's the procedure of getting a unit of ilo nanpa:
Contact me, using either the contact method in the official website of ilo nanpa, or using any social media that I'm active in, including Twitter, Facebook, Telegram and Reddit. Please provide the following information:

Recipient address and recipient name
Your intended total donation amount (If you wish to donate less or even get it for free, especially if you aren't in the workforce, it's ok to write down less than $20, or even $0. You'll still get a unit if there's enough fund available from the donation pool. If you donate more than $25, you'll be enlisted as honored donor)
Your name/nickname and optionally contact method/website if you're eligible to be a honored donor and if you wish to be named
The quantity of units that you wish to get. If it isn't mentioned, it'd be assumed that you're interested in getting one unit.

Wait for my reply. I'll confirm if any unit is reserved for you based on these factors:

If ilo nanpa is in stock
Your donation amount and the available fund in the donation pool. Given that it's in stock, a donation of >$20 will secure you a unit.
In the reply, I'll provide the following information to you:

The donation link and the amount to be donated
The quantity of units reserved for you
The approximate shipping date

After the donation is made, I'll ship the unit(s) to you on the shipping date. It'll be shipped as a registered parcel.
Future Distribution: Procedure of Donating without Getting Ilo Nanpa
If you wish to add funds to the donation pool without getting a unit of ilo nanpa, just donate to me using the donate button in the homepage of my website and contact me. The donation will be 100% used for subsidizing the recipients who are donating less or not donating (i.e. giveaway). If you wish to be named, a donation of $5 would enlist you as one of the honored donors.
Future Distribution: Website Updated with Distribution Information
The official website of ilo nanpa has been updated to show the number of units in stock, units distributed and the amount of fund available in the donation pool.
Future Distribution: Where'd the Donation be Used?
Here's the breakdown of the spending of donation for each unit:
~$3 for material cost, including PCB, electronic components, soldering material and packaging
~$5 for international shipping fee
~$12 labor cost for new units (takes 45 minutes per unit), and $22 for old units using old production method (takes 2 hours per unit. In fact, 2 hours of time's worth far, far more than $22 to me)

Cost for renting VPS, purchasing new equipment, etc. is drawn from labor cost. I've been taking the money from my own wallet for funding my hobby for years. It'd be awesome if it can get fully or partially funded by donation.
I'd like to take this opportunity to thank all of the previous donors. With the donated amount, I've purchased new equipment, which allows me to produce ilo nanpa more efficiently.
Behind the Scenes: Time-Efficient Production Method
As I'm rather new in electronics world, my current technical ability of assembling electronic parts is rather rudimentary. I've been assembling electronic devices by soldering the components onto the PCB using soldering iron one-by-one, which is extremely time consuming.
Before this project, I only had to assemble one, or perhaps a couple of prototype units for my projects. So the time inefficiency wasn't an issue. However, this had changed since the completion of the ilo napna project. I have to manually solder a handful of units of the device in order to distribute them to Toki Pona speakers. And it took me two hours to produce a unit of the device, which was dog slow. And the demand just isn't high enough to justify outsourcing the assembly process.
Time-Efficient Production Method: Solder Paste Stencil-Based Soldering
As the previous production method was time consuming, I looked into more time-efficient production alternatives. After some Google-Fu, I've found that solder paste stencil-based soldering is probably the way to go for the following reasons:
Faster assembly. Instead of soldering the components one-by-one, I can solder all of them in one go
Low cost. The equipment and material required for using the stencil isn't expensive at all
Space efficiency. I wouldn't need any huge-ass machinery to perform the production
Time-Efficient Production Method: Equipment and Material Purchased
I've purchased the following equipment and material for experimenting with this production method:
Solder paste (duh! It's **solder paste** stencil-based soldering!)
PCB with its stencil (duh! It's solder paste **stencil**-based soldering!)
Tweezers for placing the components
Hot air gun (DKT 8032, with adjustable airflow and temperature)

Ideally I should get a toaster oven or reflow skillet. However, I don't have the space for that. Welcome to Hong Kong. It's one of the crowdest cities on the earth. :(

Heat-resistant mat so that the hot air gun won't burn the soldering platform
I've purchased a new batch of ilo nanpa boards. This time, the boards are panelized so that four units of the device can be produced for each PCB. After soldering them, I'd break up the PCB and I'll get four devices from a board. Here's the photo showing a jar of solder paste, panelized PCB and a stencil on a heat-resistant mat: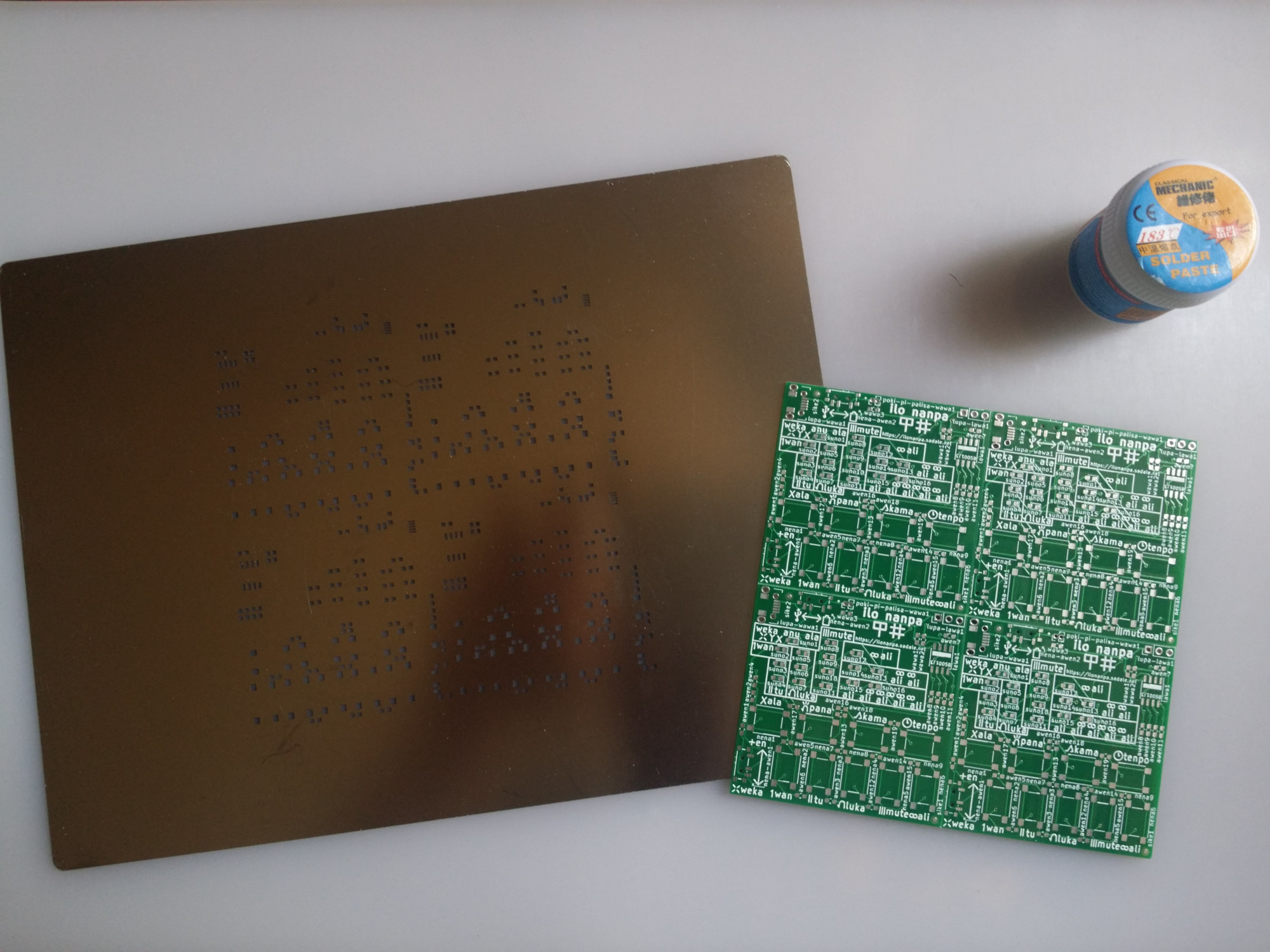 Not all components can be soldered by this technique. Only SMD components can be soldered in this way. Fortunately, most of the components of ilo nanpa are SMD components. The only components that require using soldering iron are the USB port, programming port and the battery holder.
Time-Efficient Production Method: Procedure of Production using Solder Paste Stencil
I mostly just followed this solder stencil tutorial on Youtube. Except that I'm using hot air gun instead of reflow skillet for soldering the components onto the PCB.
Here's how I'm producing the devices using this new production method:
Prepare the material and equipment, including PCB, electronic parts, soldering iron, hot air gun, etc.
Put the soldering stencil above the panelized PCB. Apply solder paste onto it using putty knife
Take away the soldering stencil
Place the components onto the panelized PCB using tweezers
Solder the SMD components onto the PCB using hot air gun
Break the panelized PCB of ilo nanpa into 4 smaller boards
Solder the DIP components using soldering iron
Attach the battery holder to the back of the unit
Program the unit using STLink
Perform setup and quality control using factory mode of the device. Debug and rework if it fails the quality control
In step 2, since some spare PCBs are required for using the stencil, the 10 thought-to-be-useless wrong ilo musi boards that I ordered long time ago is now somehow useful. They're perfect to be used for holding the ilo nanpa PCB workpiece in place so that I can apply solder paste using the stencil easily.
At the end of step 3, here's a photo showing a work-in-progress panelized PCB. Take a close look and you'll see there's a layer of gray solder paste applied on each of its pads: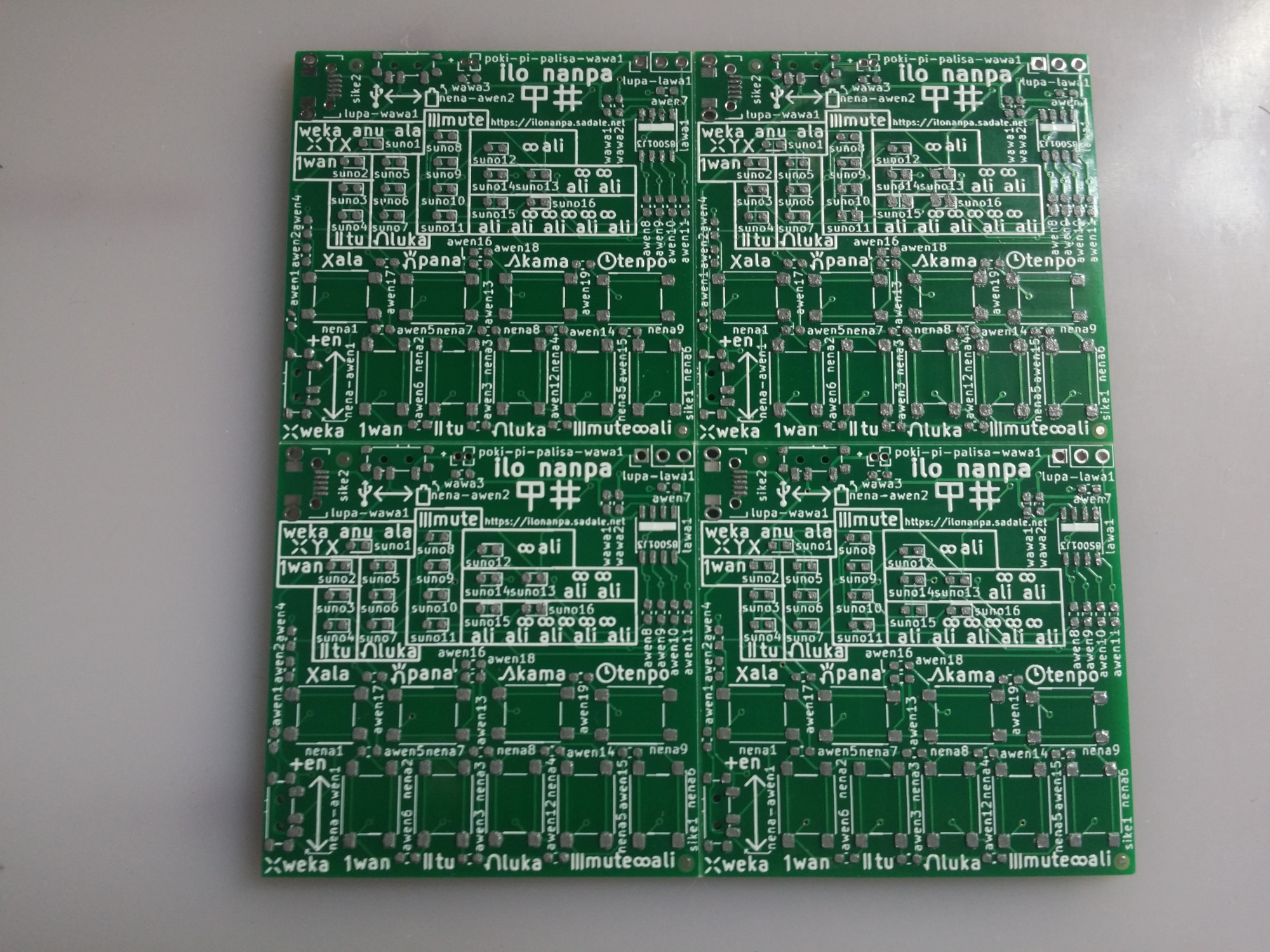 As for the hot air gun in step 5, it's empirically found that setting the air flow to 2/8 and the temperature to 3/8 works well for soldering the components.
Time-Efficient Production Method: Result
This new production method works very well. Despite that the stencil is a bit expensive, it has cut down the production time by quite a lot. Before using this method, I produced ilo nanpa at a rate of a unit per two hours. After using this method, I managed to produce four units within 2.5 hours, with an additional 0.5 hours of setup and cleanup time.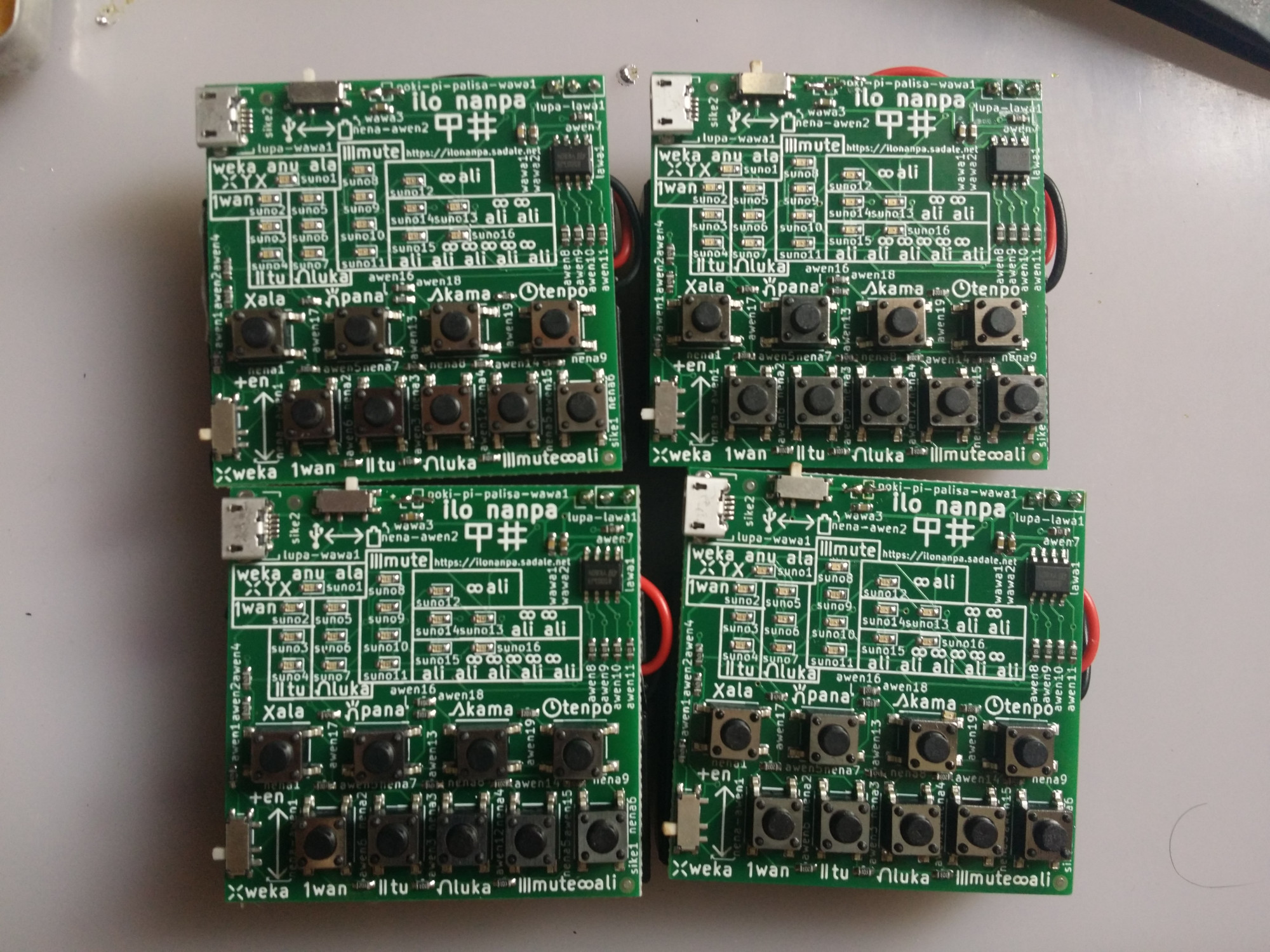 This production method is very helpful for producing several units of electronic devices in timely manner. For a demand of 20-ish units, it seems to me that it's the go-to method for production. I'm very glad to have learned it. I'll continue be using this method for small scale production.