Maker Faire Shenzhen 2019 had ended. It was my first exhibition in my life. This blogpost is to document what I've done during the trip for the exhibition.
Days before Nov 8 - Paperwork, Planning and Preparation
Days Before Nov 8 - Preparation of the Event
It took me weeks to prepare for the event. I had to sort out the application, paperwork, etc. In addition, I had to decide which projects to be exhibited, plan for the layout of the props in the exhibition, purchasing props for exhibition, order posters, order my cards, come up a list of the equipment to be brought to the site, plan for when to go and when to leave, etc. etc. etc. I had gotten extremely busy since the day that my application of exhibition had been confirmed. :(
The preparation was a loooot of work. I barely made it on time. The organizer had provided the dimensions of the exhibition table. And here's my test exhibition setup at home with a platform made of two tables that's about the same size as the exhibition table:

Days Before Nov 8 - Sightseeing Preparation
I had decided to dedicate a day after the event for sightseeing. However, since I'd be exhibiting alone, touring around alone would be boring.
Luckily there's a WeChat group for oversea exhibitors. I just shouted there like an idiot and ask if anyone's planning to tour around in Shenzhen a day after the event. It turned out that there's a Japanese team interested in accompanying me. Yay! :D
We ended up having a plan for the tour in both the registration day (i.e. the day before the first day of the exhibition) and the day after the end of exhibition.
Nov 8 - Registration and Pre-Event Sightseeing
Nov 8 - Traveling to Shenzhen
I took highspeed train from West Kowloon Station in Hong Kong SAR to Shenzhen North Station. The border control process went smoothly. And I had never traveled using the highspeed rail station in Hong Kong.
When I saw the Vibrant Express train that I was about the board on, I was excited. Despite that it's pretty much identical as other CRH380A trains in functionality, the paintings are different. And it's operated by MTR Corporation (a company in HKSAR) instead of the companies in mainland China. It's like a special snowflake.
The interior of the train didn't disappoint me either. There're TVs showcasing Hong Kong and its tourist destinations. There was only a few people traveling using the train I was in. It took a while until the train got departed tho.
However, the real disappointment started when the train got departed. As soon as the train left the station, it ended up being in a tunnel. And it's staying inside the tunnel for the entire trip. Here's a photo showing the view inside the train with nothing other than darkness outside the windows:
Its traveling speed for the entire trip was less than 200 km/h. This isn't what I was expecting for "highspeed" train. Nevertheless, it only took 20 minutes to went from West Kowloon to Shenzhen North. That's an impressively short traveling time, except that it didn't take the train waiting time into account. Depending on your origin and destination, the highspeed train may, or may not be any faster than using other kind of transit.
Nov 8 - Hotel Check-in and Registration of Exhibition
After having lunch close to the station, I headed to the hotel by taking metro. As I can't speak Mandarin well, it took me a bit trouble to get thru the check-in process. After that, I walked to the exhibition venue and did the registration of exhibition. Here's the entrance of the event's site:

I was allowed to perform the setup of the exhibition booth and store the exhibition props into the warehouse. However, I decided not to do that because I'd rather to do the setup right before the exhibition starts. Since I had tested the setup at home, there's no reason that the same setup wouldn't work on the site.
Nov 8 - Sightseeing
As there's a bit time left for the day, I gathered with the previously contacted Japanese team and toured around in Shenzhen with them. We've visited the following places:
Near Baishilong station:

A dumpling restaurant
Baishilong Music Park (which I suggested to go because it's close to the event's venue)

Huaqiangbei

Accessories stores
A cafe
The music park that we visited is just a park with music playing inside the entire park area. The speakers were somehow synchronized. The decoration inside the park wasn't particularly interesting. However, the view outside the park was. Here's an array of buildings outside of the park that each buildings look identical:

As for Huaqiangbei, most stores were closed by the time we arrived there because we were a bit late. Fortunately the Japanese team had managed to get what they wanted. And I've got a power adapter, a retractable USB cable and an earphone. They're of good value. :)
I was a bit surprised that most storekeepers there in Huaqiangbei couldn't speak English well. A while ago I've been to a building in Huaqiangbei that most people there could speak decent English. This led me to thought that most storekeepers in Huaqiangbei could speak English well.
After that, we got drink in a cafe. And I parted with the Japanese team, went back to hotel, took a shower and slept.
Nov 9 - First Day of Exhibition
Nov 9 - Exhibition
I went to the Exhibition's site about an hour early so that I could do the setup. The setup went mostly smoothly. The only issue was that I wasn't able to get the power because there's only one power socket shared between me and the booth next to me. This was quickly sorted out by contacting the organizers, which provided me a socket outlet splitter. Here's my exhibition setup:

Some of the visitors spoke English, some spoke Mandarin and a few of them were able to speak Cantonese, which's my mother tongue. It wasn't easy for me to identify which languages the visitors spoke. And I often judged that wrong. For example, many Chinese-looking visitors of my booth are actually Japanese or Korean. And a few Chinese visitors actually spoke Cantonese instead of Mandarin.
As my Mandarin was bad, quite a few of those Mandarin speaking visitors had mistaken me as Japanese. When this happened, I just pointed at the flag of China with the flag of Hong Kong SAR on the poster and explained to them that I'm from Hong Kong, China.
I actually find that it's easier for me to explain my projects in English than in Mandarin. That's probably because English is the main language I use for anything technical. I did have a problem on trying to figure out the correct technical words in Chinese (Mandarin) when I tried to explain the stuffs that I was exhibiting. Oh, of course, it's the easiest for me to explain them in Cantonese mixed with some English technical words. :P
As for the exhibition itself, it seemed to me that the kids loved the poopie game that I was exhibiting. There was a few times that the kids gathering around on the tablet that's having my poopie game running on it: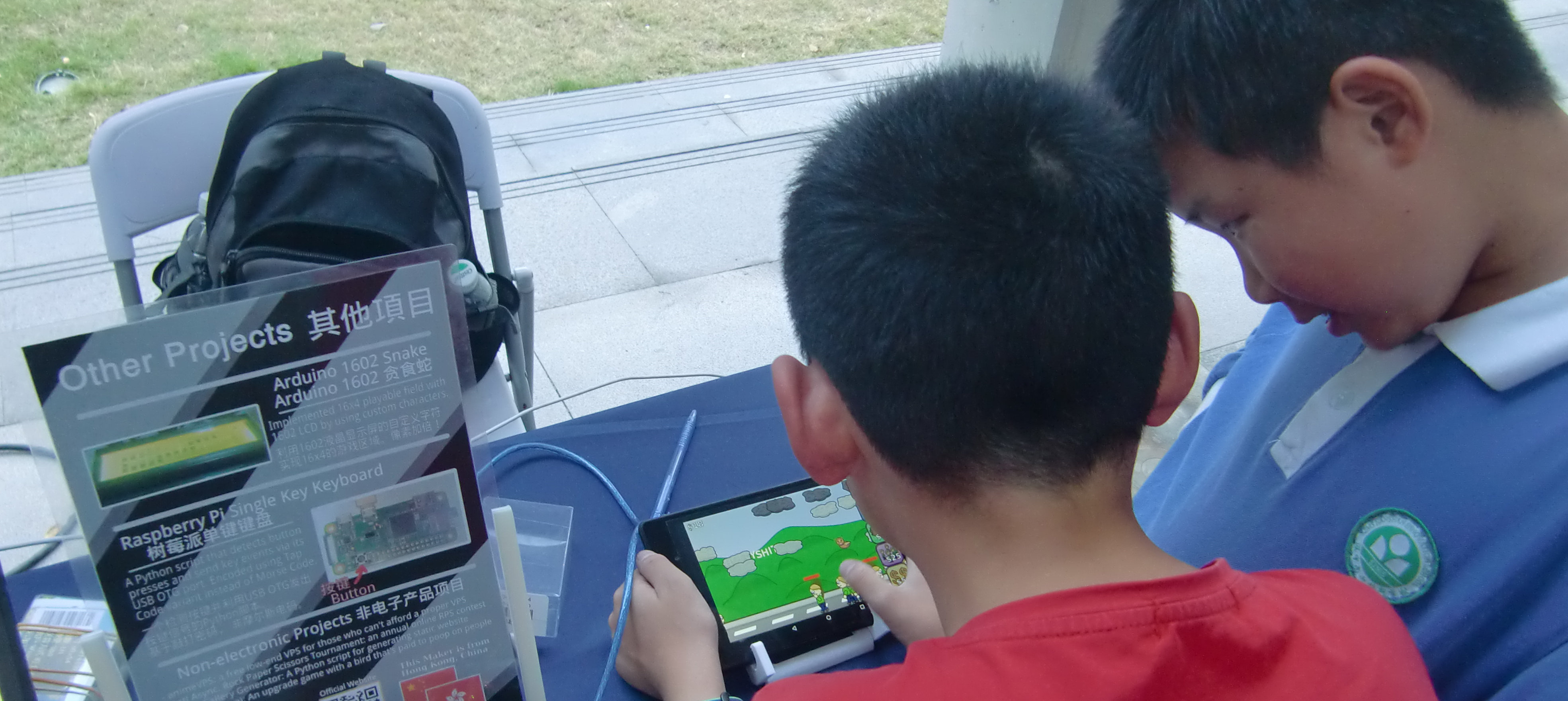 It's rather exhausting to do the exhibition alone. There's no break. I had to handle all of the visitors alone. I had compressed cracker (military ration) for lunch so that I wouldn't need to leave my booth. I only asked the staffs to take over the booth for going to toilet and fetching drinking water. Other than that I pretty much stayed in the booth during the event. It was a super busy day. :(
Nov 9 - Maker Party
I joined the Maker Party after the first day of the event. It's just a normal party. It had pizza, packaged waffles, lollipop, crackers, beer and water. I wish they had non-alcoholic soft drinks tho. Here's the photo of the entrance to the party:

Since I already had dinner, I took a lollipop and that's all I had during the party. The party was mostly about socializing with other makers. So I chatted with the people inside the party.
This session reminded me of the pitching session of my first global game jam. Fortunately, I'm doing far better on this one because I'm now a less jerky person than I used to be. This party was pretty fun. I got a chance to know more about other fellow makers and learned about what they had developed and what they're making for. :)
Nov 9 - Maker Party - Japanese! A lot of Japanese!
Here's something funny happened during the party. There was a Super Mario cosplay guy in the Maker Faire. He was exhibiting just two booths away from mine. I found him in the party and tried chatting with him, only to find out that he's Japanese and he could only speak bad English and bad Mandarin. We chatted with each others mostly using simple English. With the help of photo and body language, we were still able to communicate. And we managed showed our projects to each others.
Suddenly another Japanese joined in. Thank goodness. He spoke good English albeit heavy accent. I could understand him perfectly. So he acted as a translator between the Mario guy and me. This was cool until another Japanese joined in. Then they started discussing in Japanese and started speaking less English. After that, yet another Japanese joined in and the entire conversation had turned into Japanese-only. I was like, awww. :(
Then we exchanged our cards and I moved on to chat with someone else. At least I had got the twitter of that Mario guy. xD
After the party, I got back to hotel, took a shower and slept a bit late.
Nov 10 - Second Day of Exhibition
Nov 10 - Exhibition
It's pretty much the same as the first day. Except that there're more visitors to my booth. And I hadn't slept enough in the previous night. It was almost too much for me to handle the visitors alone. :( Here's a photo showing an overwhelming amount of visitors: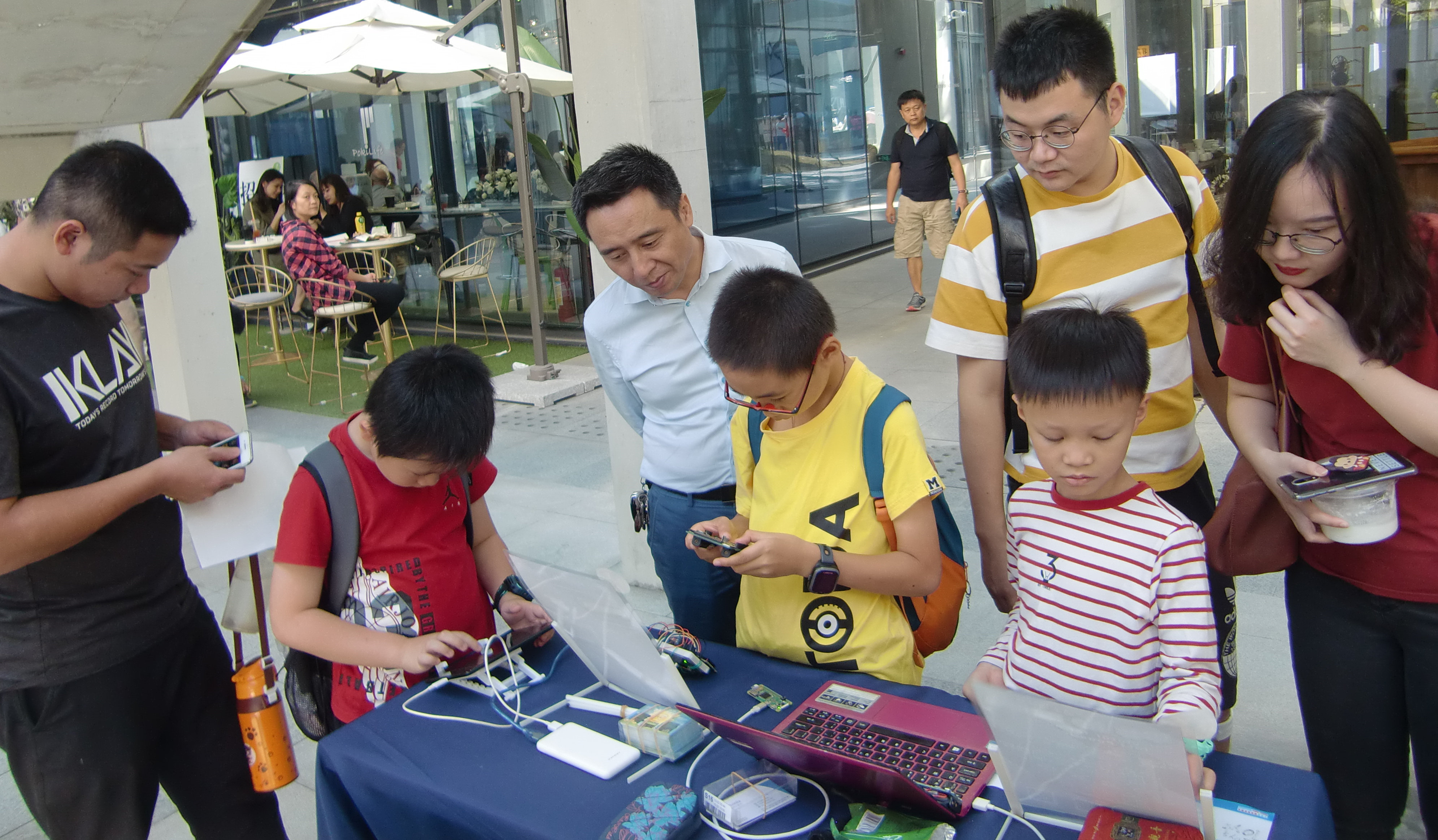 During the lunch time, I opened up another pack of compressed cracker (military ration), just like the previous day. However, there were too many visitors. It was very tough to handle the visitors while eating the crackers. It took me like 1.5 hours to finish the two crackers inside the pack because I had to stop eating multiple times for explaining my projects to my visitors. At the end of the lunch, my voice turned very bad and my throat was extremely dry. Despite that I drank a lot of water, it didn't help much. :(
The event was going to end in an hour. I was extremely tired and I needed to sleep pretty badly. There was less visitors by that time. But still, it was pretty tough to me.
After the exhibition had ended, I dismantled the booth and headed to the place of taking group photos. Here's how my booth looked like after getting dismantled:

Nov 10 - End of Exhibition and Taking Rest
After the event, I went to hotel and took a nap immediately. After napping for a few hours, I got out and had dinner. I felt much better after having the dinner. Then I headed back to hotel, took a shower and slept. That's the end of the day.
Nov 11 - Sightseeing and Leaving Shenzhen
Nov 11 - Sightseeing
I had reserved this entire day for touring around in Shenzhen. The trip of this day was planned by the Japanese team that I've contacted. I took my baggage, checked-out from the hotel and gathered with the team. Here're the places that we went to:
Near Laojie station:

The anime mall "东门动漫城"
The food court "庙街美食广场"

Near High Tech Park station:

A large Xiaomi store
A large Huawei store
The Cafe "奈雪之茶"
The shopping mall "万象天地"

Near Baishizhou station:

The supermarket "福伴"
The bar Peko
For the anime mall, we arrived there too early. Almost all stores weren't opened. We still looked around there anyway. I've purchased an el cheapo tiny Vocaloid figure for RMB20 from an opened store, and I'm extremely disappointed. The coloring of the hair of the figure's far off.
As for the food court, it's a pretty fun one. One of the stall sold grilled insect, which I didn't dare to try. We just randomly grabbed some food there and shared with each others. Most of the food there were spicy and mala (numbing-spicy). :)
After that, we headed to high tech park. Here's a photo of an artpiece showing the bird-eye view of high tech park inside a shopping mall that we visited:

In the Xiaomi store, one of the Japanese team members purchased a new phone right on the site. Other members had purchased something else, like speaker and stuffs. I envy them. All I had got in the store was a fidget toy that costed me RMB10. I'm a poor man. :(
We didn't do much in the Huawei store because it's more expensive than the Xiaomi one.
In the cafe, each of us just grabbed a drink and we tried out the new stuffs that we've just purchased. I assembled the fidget toy. A Japanese team member had tried out the Xiaomi speaker that she had just bought and played some random music. We had fun. :)
In the evening, we went to a bar, had drinks, chicken pieces and taco and we parted.
Nov 11 - Heading Home
Right before getting back to the home, I decided to check the local news in Hong Kong about the traffic. It was pretty scary. Large scale protests were happening in 11th Nov 2019 in Hong Kong, blocking the traffic and stuffs. After discussing with my family, I decided to try returning to my home anyway. If I failed, I'd get back to Huanggang and book a hotel room to stay there.
I went to Huanggang Checkpoint using metro. Then I took a cross-border bus to get back to my home. After alighting from the bus, I took a detour to avoid the police station because it's where the chaos often happen. I passed thru a road with bricks all over on it. Apparently the bricks were used for blocking the traffic and was put there by the protestors. Nevertheless, it's not that dangerous because there's no fighting between groups of people having different political ideology. In the end I managed to get back to home safely.
Goodbye Shenzhen! I'll come back again some days later! :)
Reflection and Moving on
The entire Maker Faire experience was pretty awesome. It was quite fun overall, including the preparation work, exhibition and the post-exhibition sightseeing. I've also made a few new friends there. :)
However, it took me a loooot of work to join the exhibition. Weeks of work had been done solely for the preparation. And the exhibition itself was extremely exhausting. It's far more exhausting than joining Global Game Jam. I'm not sure if that's because the event itself's exhausting, or the event's held outside my home town, or the combination of both. Fortunately I've taken good care of myself and ensure that I've got enough sleep and food. Despite that I've caught cold, it's still nowhere as bad as the cold spell that I've caught in my first Global Game Jam.
After the event, my mana bar has almost gone empty. I pretty much need a break. Since it's exhausting, I'm not sure if I'll be doing another exhibition next year. I guess it'd be easier if I had partner(s) for exhibition. (Oh well! As if I'd be able to get one! I only socialize with online friends that aren't in Hong Kong) Anyway, in the near future, I'll probably be laid-back for a bit and focus on watching anime and playing video games. :)